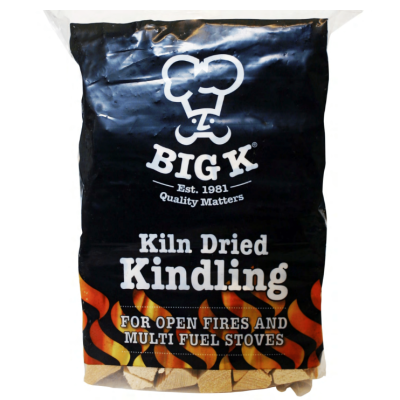 Big K Softwood kindling sticks in handy bags - a perfect complement to any of our wood fuel products. Very dry and very light - 2.2-2.5 kg per bag. Delivered by parcel or on the pallet of wood fuel with the rest of your order if space and weight limitations allow. 
Customers in BT postcodes will receive 2 boxes of 100pcs firelighters.
A pack of 200 firelighters made of wood wool and wax, in a cardboard box.
Natural Fire Lighter is made from certified wood wool and paraffin wax, which light easily in any conditions. It burns with a smokeless flame up to 10 mins and does not have any impact on food. To start a fire you will normally need 1-2 fire lighters. Suitable for wood briquettes, heat logs, firewood, charcoal and any type of stove/fireplace/BBQs and pizza ovens.
Click here for details.
The item has been added to your basket